GPS for school bus – 5 reasons why schools must invest in GPS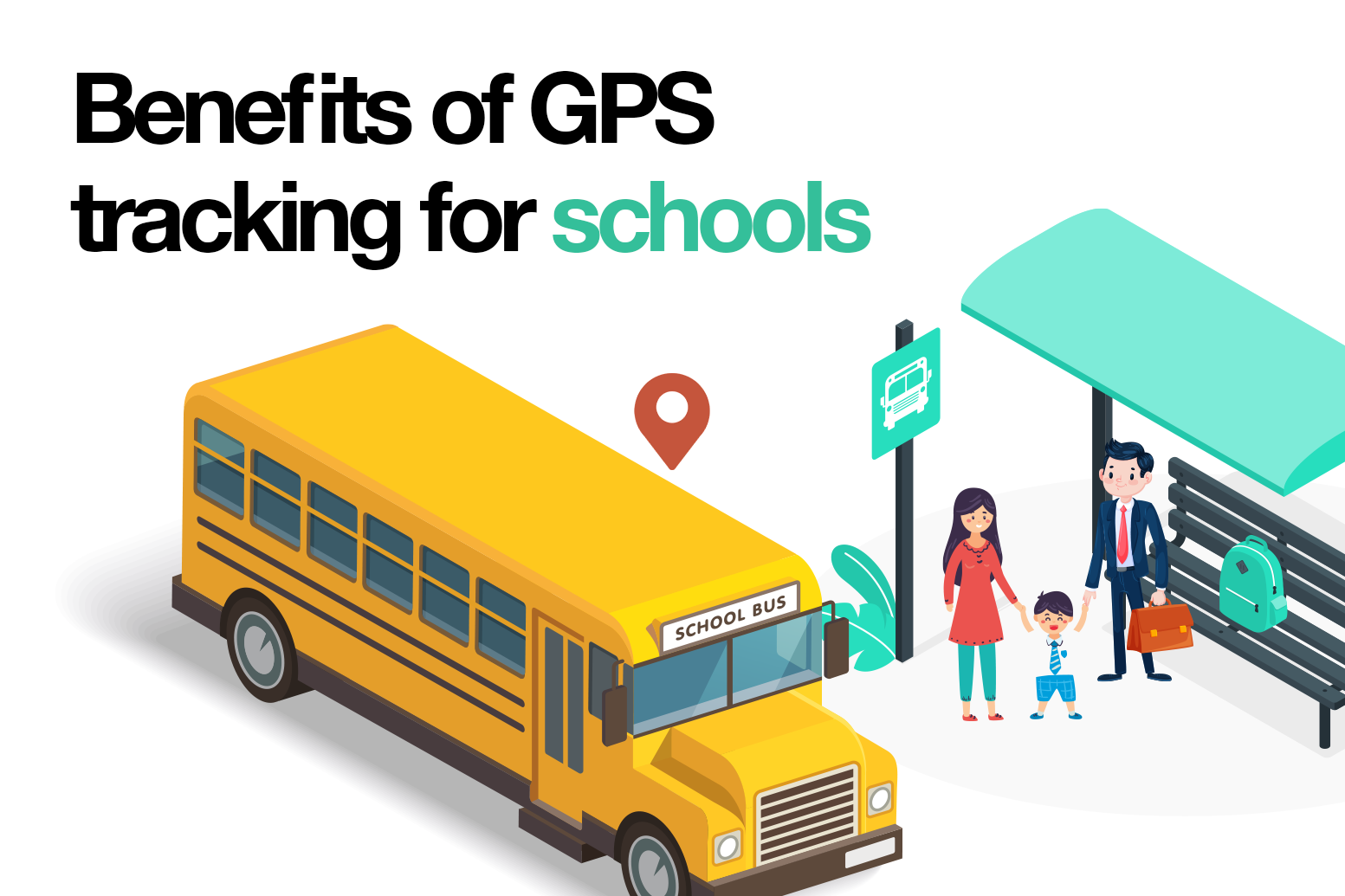 In India, School Transport has been an issue that has been plaguing both the School management and Parents alike. Since there is an absence of a common or centralized fleet at the school's disposal they are forced to hire different transporters for this purpose. A centralized GPS for  school bus provides an opportunity for them to keep an eye on the entire fleet that is in operation.
Since there are many private transport contractors, there should be one single platform on which the schools can monitor and manage the entire fleet of buses at their service. This platform can also provide information to the students' parents regarding the whereabouts of the transport service. In this regard, GPS for School Buses comes in really handy.
Also, read: How GPS works and its applications?
Benefits of using GPS for School Buses:
The benefits of using GPS here can be defined from 2 perspectives depending on the parties which it benefits namely;
1. Schools
2. Parents
1. Benefits for Schools:
1.1 Manage the entire fleet:
This enables the school management to keep and manage a thorough record of every vehicle that is in use in transporting the students.
This also ensures that the drivers are following the preset route. This also ensures picking up of students from each and every designated stoppage on the way.
This can also help to see if any resource is not in a working condition so that a replacement resource can be sent to complete the designated task. This ensures that every possible scenario is covered and a replacement is ready on time.
1.2 Monitor Driver Behaviour:
Due to this tracking system, Schools are able to gather and maintain information regarding each and every driver and their performance history as well.
Schools can keep a track on driver behaviors. This includes the speed at which they drive, if they are following the route, if they are making the right stoppages or not and reward or punish them on this basis.
1.3 Create Geofences:
The schools can set geofences on their school location as well as every stoppage on a particular route and can share this information with the parents through a single mobile application. This helps both of them and creates a sense of transparency in the communication between them.
Geofences send alerts whenever the vehicle enters or exits the marked area which helps the school to keep an eye on every movement at any particular time.
1.4 Helps in the projection of the costs involved:
The management has access to the speed of the vehicle, the total distance covered, the number of stoppages made and the time taken to complete the journey. This enables them to generate a detailed projection for the estimated cost required to complete the operation.
This can help in negotiations with the transport provider. It can also be used to settle any dispute regarding payments as the records are readily available.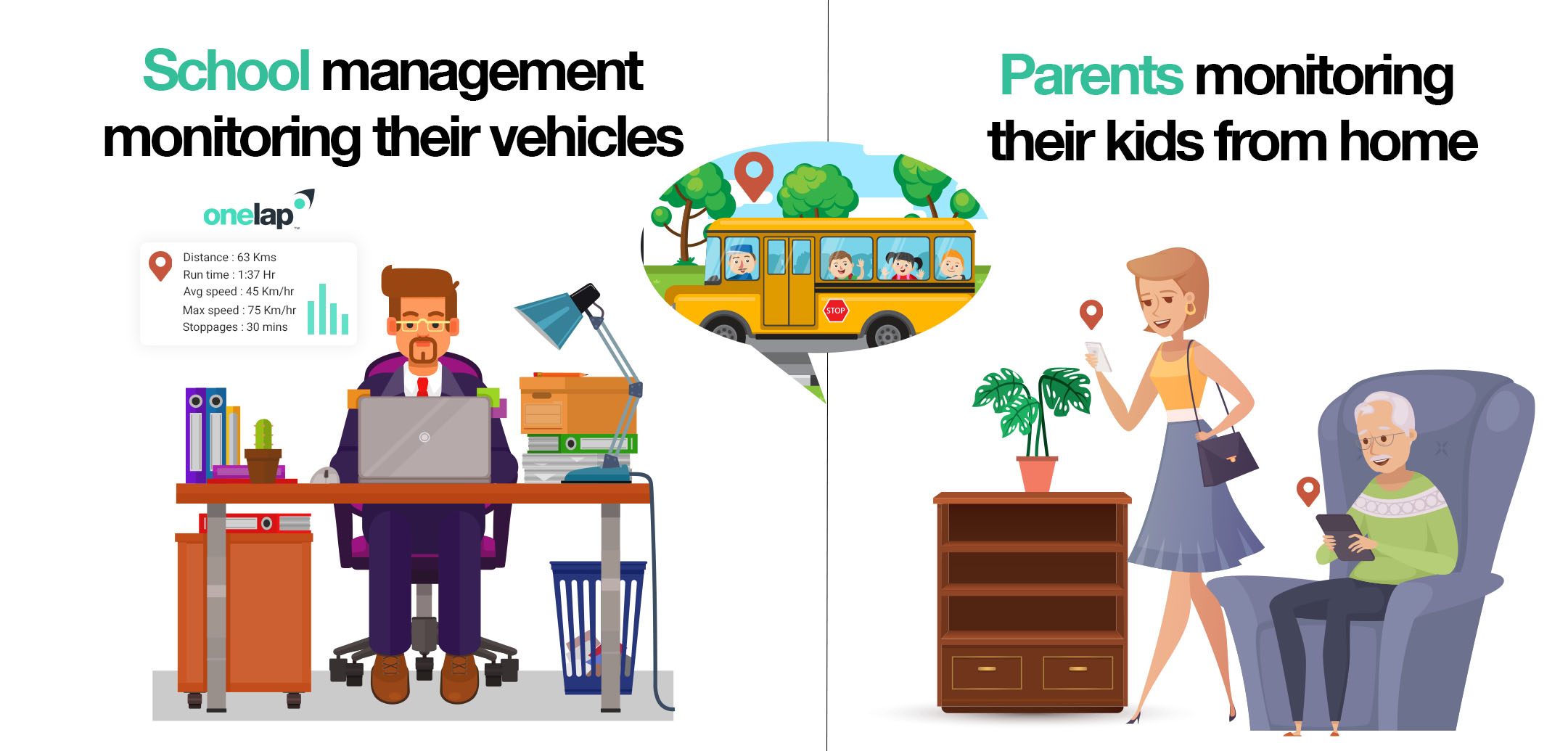 2. Benefits for Parents:
GPS sends the exact location of the vehicle to each connected device. This ensures that the parents are aware of the time at which the vehicle arrives or departs at the designated stoppage point.
An alert is also sent when the buses reach or leave the school campus and also at every stoppage so parents can access the real-time location and route history of the concerned vehicle.
Enables parents to reach the pickup point at the exact time when the bus is nearby. They need not go to the point too early or too late as they are aware of the exact location.
Parents can log in on the mobile application to access information such as Real-time location, speed history, route history, etc. so that they are not concerned regarding the safety of the vehicle and their children.
Also, read: How to use GPS for vehicle tracking in 2020? – Learn with Onelap
Looking for a GPS Tracker for School Buses?
Onelap Telematics has emerged as a pioneer in GPS Tracking solutions and is one of the bestsellers on Amazon India with a dedicated user-friendly mobile application which is extremely easy to use. To buy Onelap Telematics GPS Tracker you can visit Onelap.in or from Amazon India.
The salient features of Onelap GPS Trackers are:
1. Firstly, Real-time tracking of your vehicle via an application on your mobile phone.
2. Vehicle performance statistics.
3. Data History.
4. Remote Engine Immobilization at your fingertips accessible from anywhere.
5. Define Geofences or Safe zones on the map.
6. Finally, much more affordable than other GPS tracking solutions in the market.
Call Now

  +91 – 1800 103 0274  (Toll-Free No.) or
Drop 

Whatsapp message

  +91 – 78272 17494  for any queries about how to choose a tracker or to book Onelap Telematics (Hardware or Software solution).