Geo-fencing: Top 5 applications in GPS tracking system.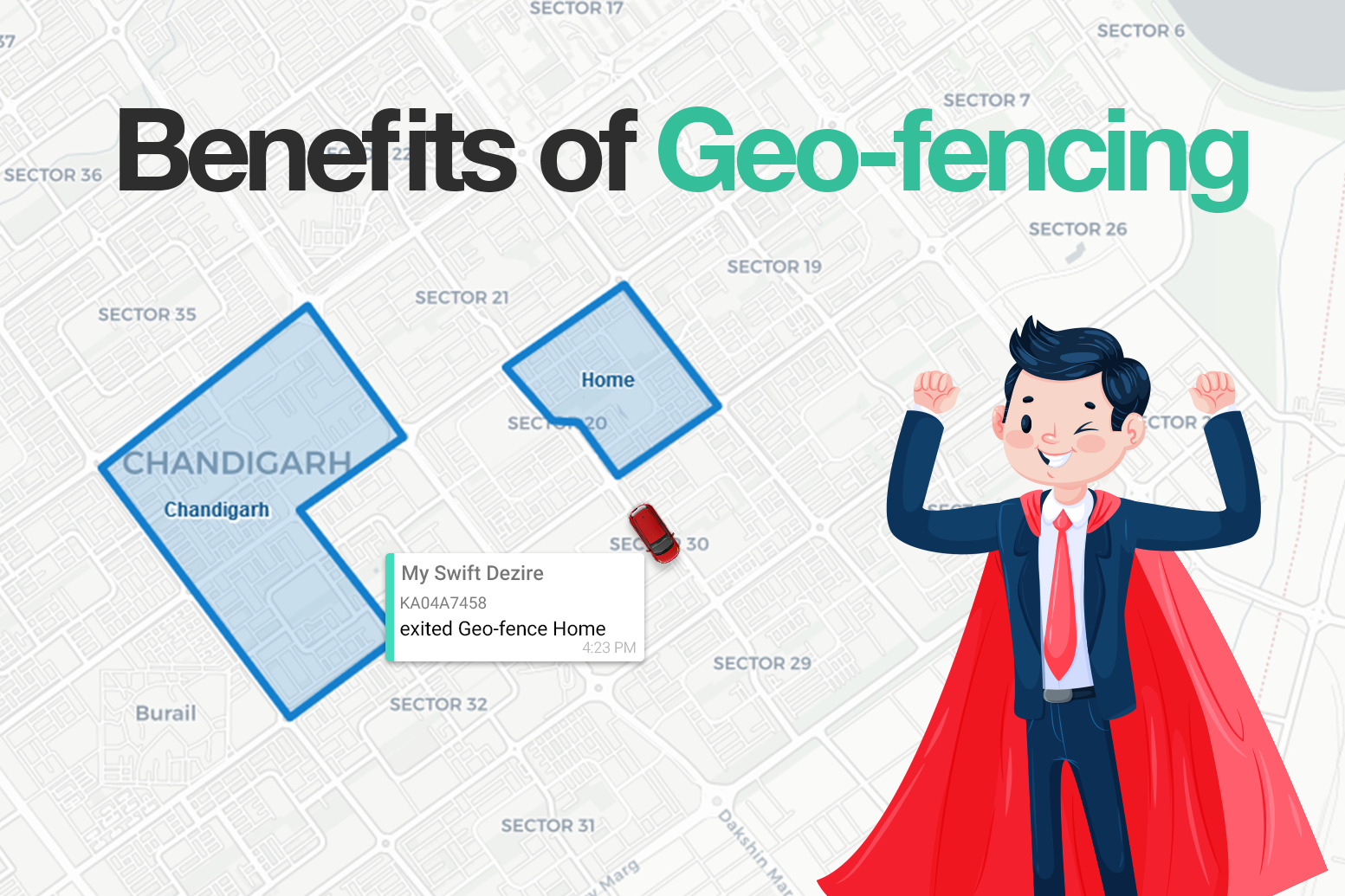 Geo-Fencing is a technology that permits the user to set up virtual perimeters in a real-world scenario. The user can define a particular radius area on the map. They will receive real-time updates if any entry or exit is made from that region. This ensures the safety and security of the asset as well as a scrutiny mechanism so that any unwarranted activity is discouraged.
Geo-fencing alerts the user with a pre-programmed prompt which can be in the form of text messages, push notifications or pop-up messages depending on the medium of use (browser or mobile application). Hence, a geofence is one of the most basic and important features of a GPS tracker device.
Also, read: How to use GPS for vehicle tracking in 2020? – Learn with Onelap
The functional areas in which the Geofencing feature can come in handy are: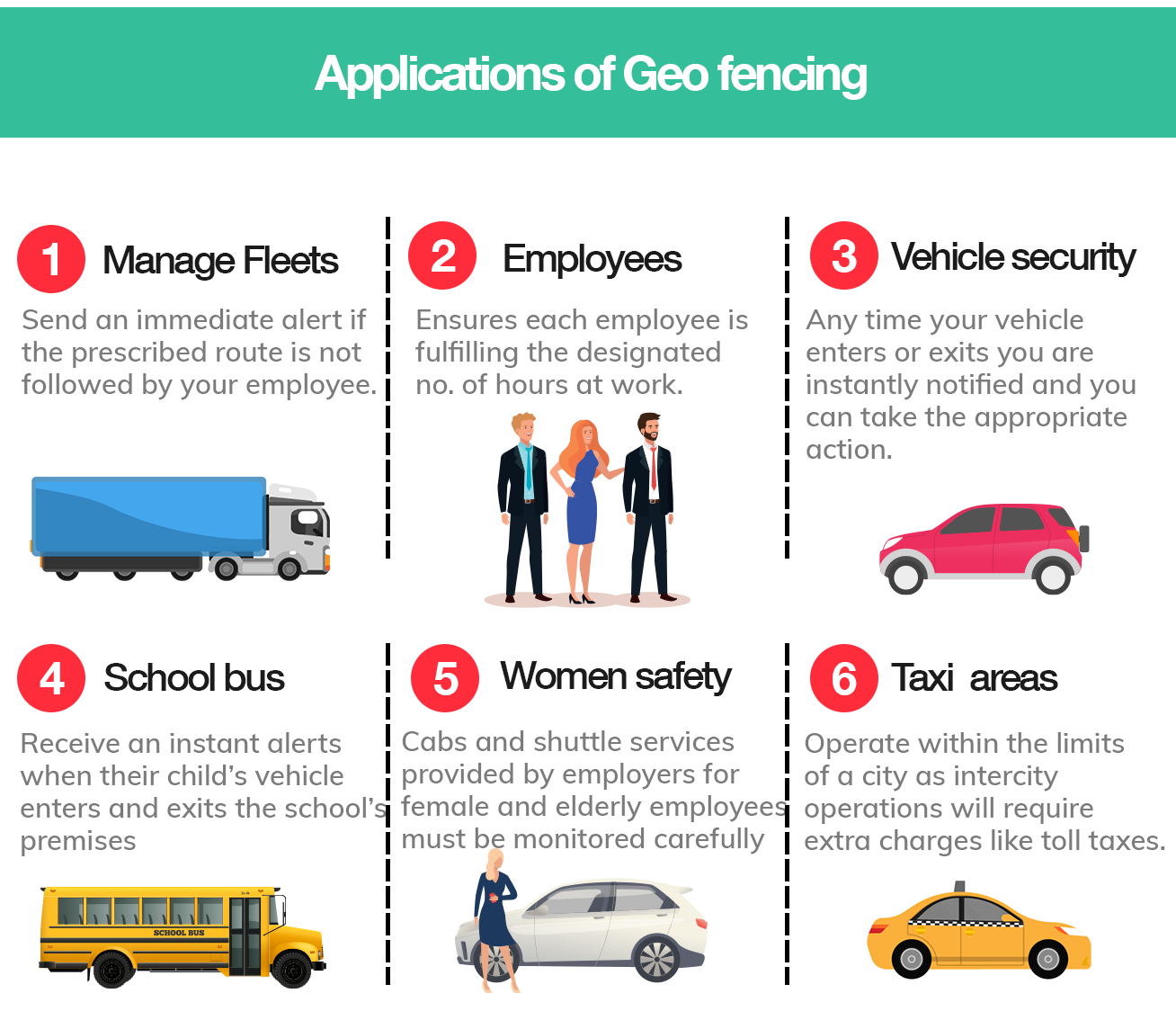 Firstly, large businesses that have a very huge fleet can use geofencing to manage and monitor their assets in an organized manner. The vehicle will send an immediate alert if the prescribed route is not followed by your employee.
You can remotely turn off the vehicle if such a situation arises preventing any unwanted activity which may be harmful to the driver or the vehicle which in turn reduces the costs involved in completing the process.
You can also appraise the performance of the employees based on their compliance with the company prescribed geofenced routes. This helps to increase the overall productivity of the personnel.
Employee Tracking for companies that require the employees to be engaged in field services. It ensures that each employee is fulfilling the designated number of hours at the specific area assigned to them.
This ascertains that each and every employee is exactly where they are supposed to be enhancing the chances of boosting sales and increasing profits. A keen eye upon them also reduces the downtime of employees and makes them conscious of the idle time that they are spending.
The employees can also have access to marking their attendance once they have reached the designated area because of this geofencing feature.
This is the most common area where geofencing is underuse. You can define your home, workplace, school, etc. as a safe zone.
Due to this feature, any time your vehicle enters or exits you are instantly notified and you can take the appropriate action.
If your GPS device the capability to cut off engine supply you can use it to safeguard your vehicle against any theft or robbery if the geofence boundaries are breached.
School Vehicle tracking provides the school authorities to ascertain the location of the students' transport vehicle. As a result, this guarantees that the safety of students is not compromisable and any misconduct will be dealt with.
The parents will also receive an instant notification when their child's vehicle enters and exits the school's premises so that they are aware of each and every movement of the vehicle.
Subsequently, it also helps to record the entry and exit times for each and every day so that if there is any problem regarding the time they can use these records to address them.
Women and Elderly Safety :
Women's safety is a major concern in most parts of the country. Hence to ensure that any misconduct does not happen geo-fencing is an important tool.
Cabs and shuttle services provided by employers for female and elderly employees must be monitored carefully. Therefore, extra security measures should be in place in vehicles traveling late at night.
Taxi Services:
Taxi owners mostly operate within the limits of a city as intercity operations will require extra charges like toll taxes, permits etc which will add to the overall cost of their business ultimately leading to losses.
The owners can also track the activities of their drivers making sure that they ply the vehicles in the area for which they are permitted and do not wander into off-limit or prohibited areas.
Also, read:  How GPS works and its applications?
Are you looking for a GPS tracker with geofencing capabilities?
Geo-fencing is one of the many features which you will find in Onelap's GPS Tracking System. To know more and buy Onelap's products visit Onelap's website Onelap.in. or from Amazon India.
The salient features of Onelap's GPS Tracker are:
1. Firstly, real-time tracking of your vehicle via an application on your mobile phone.
2. Vehicle performance statistics.
3. Data History.
4. Remote Engine Immobilization at your fingertips accessible from anywhere.
5. Additionally, define Geofences or Safe zones on the map.
6. Finally, much more affordable than other GPS tracking solutions in the market.
Call Now

  +91 – 1800 103 0274  (Toll-Free No.) or
Drop 

Whatsapp message

  +91 – 78272 17494  for any queries about how to choose a tracker or to book Onelap Telematics (Hardware or Software solution).