The 5 most vehicle theft prone states in India :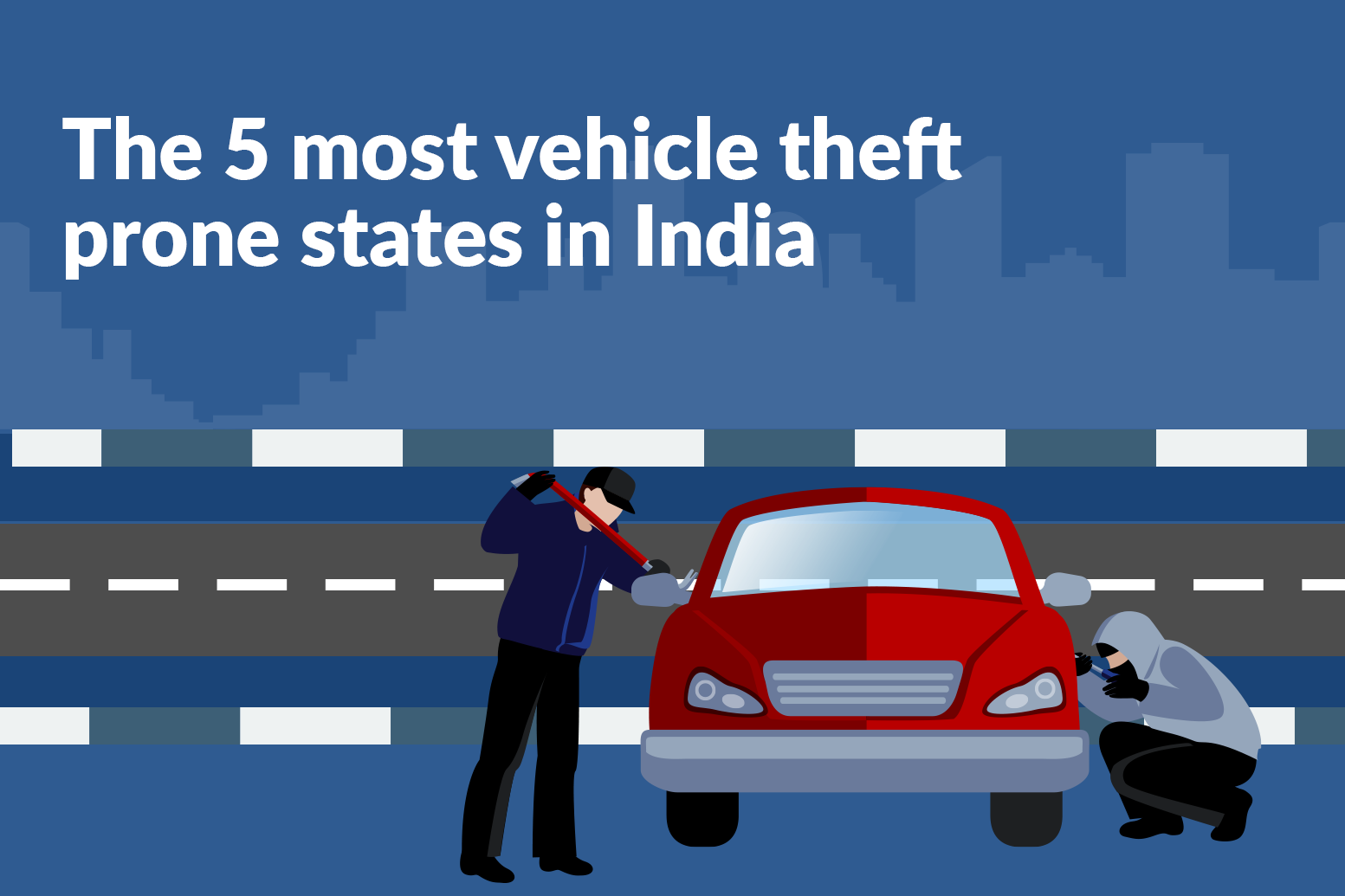 Automobile theft is a major contributor to the ever-increasing crime rate in India. Metro cities take the majority of the brunt when it comes to vehicle theft but it is prevalent in most parts of the country. According to government data, in 2016, there were more than 2 lakh cases registered for vehicle theft across the country. In this article we will get to know that how a real time GPS tracker can help in tackling automobile theft. You will be surprised to know that the price of GPS tracker for vehicle is very mere in comparison to bringing a new car after theft.
Inadequate parking space is a major source of worry in India and this contributes to the rising rate of theft cases. 2-wheelers are comparatively easier to steal as they are much more difficult to track and this trend is reflected in the government data. More than 60 per cent of the total stolen vehicles were 2-wheelers which were either shipped to other countries to sell or were used for illegal activities like snatching etc.
Also, read: How GPS works and its applications?
States/Union Territories with a high number of Automobile theft cases
The top 5 states/ union territories where automobile theft is most prevalent are:
1. Delhi: The national capital is also the hub of vehicle thefts in the country. An estimated 40 thousand vehicles were stolen from Delhi in 2016 which was the highest in the whole country.
2. Uttar Pradesh: Delhi's neighbouring state of Uttar Pradesh comes in 2nd position on the number of vehicles stolen. According to government information, there was a total of around 34 thousand cases. Police were not able to solve most of the cases and the owners were left without a trace of their vehicles.
3. Rajasthan: Rajasthan reported around 16 thousand cases of vehicle theft. Rajasthan is notorious for vehicle thefts and carjacking incidents. These vehicles are then put up for sale in neighbouring states such as Punjab, Uttar Pradesh and Haryana.
4. Maharashtra: Maharashtra is also a major source of vehicle thefts. Around 22 thousand cases were registered out of which a large majority was in urban centres like Mumbai or Pune. Mumbai also recorded the highest number of luxury vehicles stolen in the country.
5. Karnataka: Karnataka surprisingly ranks high in terms of automobile theft. The agencies were receiving around 10 thousand cases at that time. Solving most of these cases was cumbersome as it becomes difficult to track these vehicles without GPS trackers.
How does GPS Tracker for vehicle help against vehicle theft?
Since the stats show a large number of thefts, the vehicle owners should be much more aware and update themselves regarding the technologies that can help them to safeguard their vehicles. GPS tracking is one such measure which will help the vehicle owners to protect their asset and the price of GPS tracker for vehicle is also nothing in front of the loss we get because of theft.
We can look at the ways in which the price of GPS Tracker for vehicle can be convenient for the vehicle owners:
1. Real-time Tracking:
Firstly, this feature enables the user to keep a watchful eye on the whereabouts of their vehicle. You get access to the exact location coordinates of your vehicle to your mobile application.
You also get a playback history of all the locations that have been visited by the vehicle so that any unauthorized activity is monitored and avoided. This also helps to give an estimate of the total distance covered by the vehicle.
2. Instant Alerts:
The main motive behind buying a GPS tracking device is to ensure the safety and security of your vehicle. One important function of any GPS system is to send instant alerts if it detects any unwanted activity.
The GPS devices give you the possibility of defining safe-zones or geofences and you get instant alerts on each and every entry or exit. Enhancing the safety factor around your vehicle, alerts will also be sent if your vehicle is forcibly entered or started and you can also remotely cut off the engine's power via the phone application.
Also, read: How to use GPS for vehicle tracking in 2020? – Learn with Onelap
3. Remote Engine Immobilization:
This feature allows the user to cut off the fuel supply to the engine in case the user detects unauthorized access to their vehicle.
As a result, the user can remotely access the fuel supply to the engine via the connected mobile application so that he can remotely control the vehicle's ability to move.
4. Geo-Fencing:
It is a technology that permits the user to set up virtual perimeters in a real-world scenario. The user can define a particular radius area on the map. They will receive real-time updates on any entry or exit from that region.
As a result, Geo-fencing alerts the user with a pre-programmed prompt which can be in the form of text messages, push notifications or pop-up messages depending on the medium of use (browser or mobile application).
Are you looking for a GPS tracking solution for your vehicle?
Onelap provides the best in class GPS for vehicle tracking designed in India providing many premium features linked with a state-of-the-art mobile application. Due to the easy-to-use Onelap mobile application, the user can access detail and thorough statistics to improve the performance of their vehicle.
The salient features of Onelap's GPS Tracker are:
1. Firstly, real-time tracking of your vehicle via an application on your mobile phone.
2. Vehicle performance statistics.
3. Data History.
4. Remote Engine Immobilization at your fingertips accessible from anywhere.
5. Additionally, define Geofences or Safe zones on the map.
6. Finally, much more affordable than other GPS tracking solutions in the market.
To buy from Amazon.in – Click here
Call Now

  +91 – 1800 103 0274  (Toll-Free No.) or
Drop 

Whatsapp message

  +91 – 78272 17494  for any queries about how to choose a tracker or to book Onelap Telematics (Hardware or Software solution).